10 dAY ITINERARY fOR SAUDI ARABIA
10 day itinerary for Saudi Arabia
Looking for an exciting and unique way to explore Saudi Arabia? Consider a 10-day road trip camping in some of the country's most stunning destinations. This is a country of contrasts, with ancient history and some of the most modern cities in existence. From the historic city of Jeddah to the otherworldly Gherameel, this trip is sure to leave you with unforgettable memories.
Since this is the first thing that comes to people's minds, I'll answer it right away. As a woman, I felt incredibly safe there. I would just make sure to respect local customs and bring more conservative clothing. For outdoor activities, a pair of leggings and a long shirt will do. Before we delve into the itinerary and what to see in each location, it is important to first answer some basic questions about the country.
Is it safe to drive across Saudi Arabia?
Yes, it is generally safe to drive across Saudi Arabia. The roads are well-maintained and well-marked, and there are many gas stations and rest stops along the way. However, it's important to drive defensively and be aware of local driving customs, such as the use of roundabouts and the importance of yielding to larger vehicles. If you have any questions, make sure to clear these up with your car rental before you go on the road!
Can we go to Saudi Arabia by road?
Yes, you can enter Saudi Arabia by road from neighboring countries such as the UAE, Kuwait, and Jordan. However, you'll need to have the necessary visas and documentation, and it's important to be aware of any travel advisories or restrictions that may be in place.
Is Saudi Arabia hard to travel?
Traveling in Saudi Arabia can be challenging for some travelers, particularly those who are not familiar with the local customs and culture. However, with careful planning and research, it's possible to have a safe and enjoyable trip. It's important to dress conservatively and respect local customs, particularly when visiting religious sites.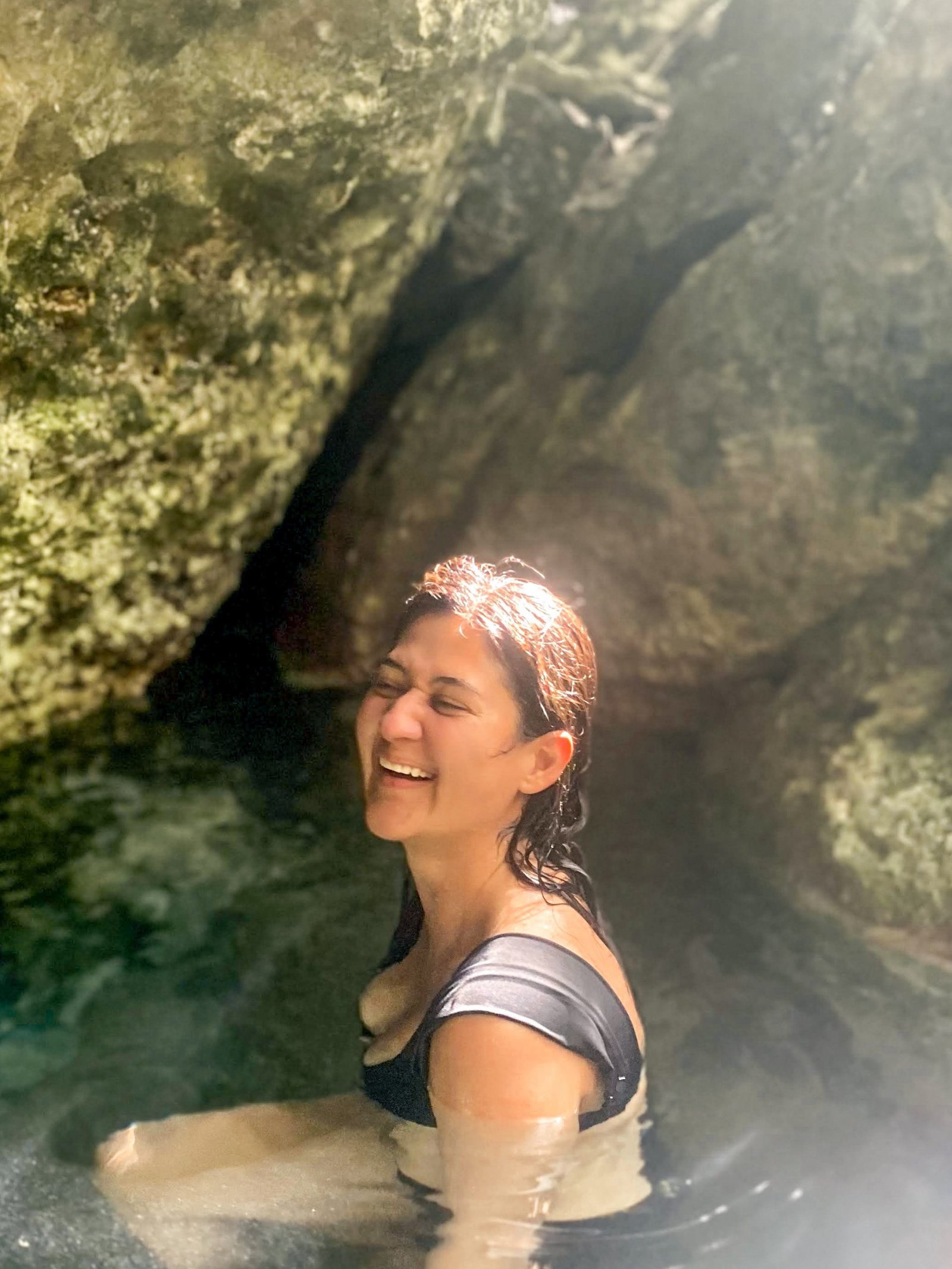 Hey there, and welcome to Go Global with Sibu! I'm a global citizen that has been living and traveling around the world since 2005 – all through budget travel, scholarships, study/work and living abroad opportunities.  I share everything I've learned over the years here – to prove to you that you don't need money or privilege to enjoy everything that this world has to offer. 
Is Saudi Arabia friendly to tourists?
Saudi Arabia is becoming more open to tourism than ever before, with the government investing in new tourist attractions and easing restrictions on travel. Like I've said before, do some research, keep your opinions about the government and the royal family to yourself, and enjoy everything that this beautiful country and its people have to offer.
Do tourists have to cover up in Saudi Arabia?
For the most part, no. I, a non-Muslim, was traveling around the country in long pants and dresses and was not wearing a head cover. Of course, make sure to bring along a scarf to cover your head to enter religious sites, and bring along conservative clothes with no cleavage and that go below the knee.
Can you drink alcohol in Saudi Arabia?
No, alcohol is strictly prohibited in Saudi Arabia, and there are severe penalties for violating this law. If you want to enjoy a drink, you'll need to go to a neighboring country or choose a non-alcoholic beverage. Their mocktails are incredibly tasty and I'd highly recommend them!
The Roadtrip
I was staying in Riyadh so this is where I started my roadtrip. Riyadh and Jeddah are the two Saudi airports with the best connections. Al-'Ula is also starting to offer direct flights from Europe because it is growing as a tourist destination. This trip can be done from any point in the country. This is how we personally did it but feel free to adapt it as needed. You can drive counterclockwise or start in another city depending on where you get your car from.
Why would I recommend a road trip in Saudi Arabia? The government is quickly shutting down places that are completely open to the public, and they will surely start charging for entry fees soon. Wadi Al Disah aside, we did not have to apply or pay for a single camping permit. We would just show up and set up our place for the night. This made the experience priceless. It will not stay this way for long. This country has so much to offer and it is still under people's radar.
I highly recommend bringing your own camping gear. This is not yet a common hobby in the country and you will find yourself paying very high prices for all of the equipment that you need. I personally traveled with locals who already had the equipment needed.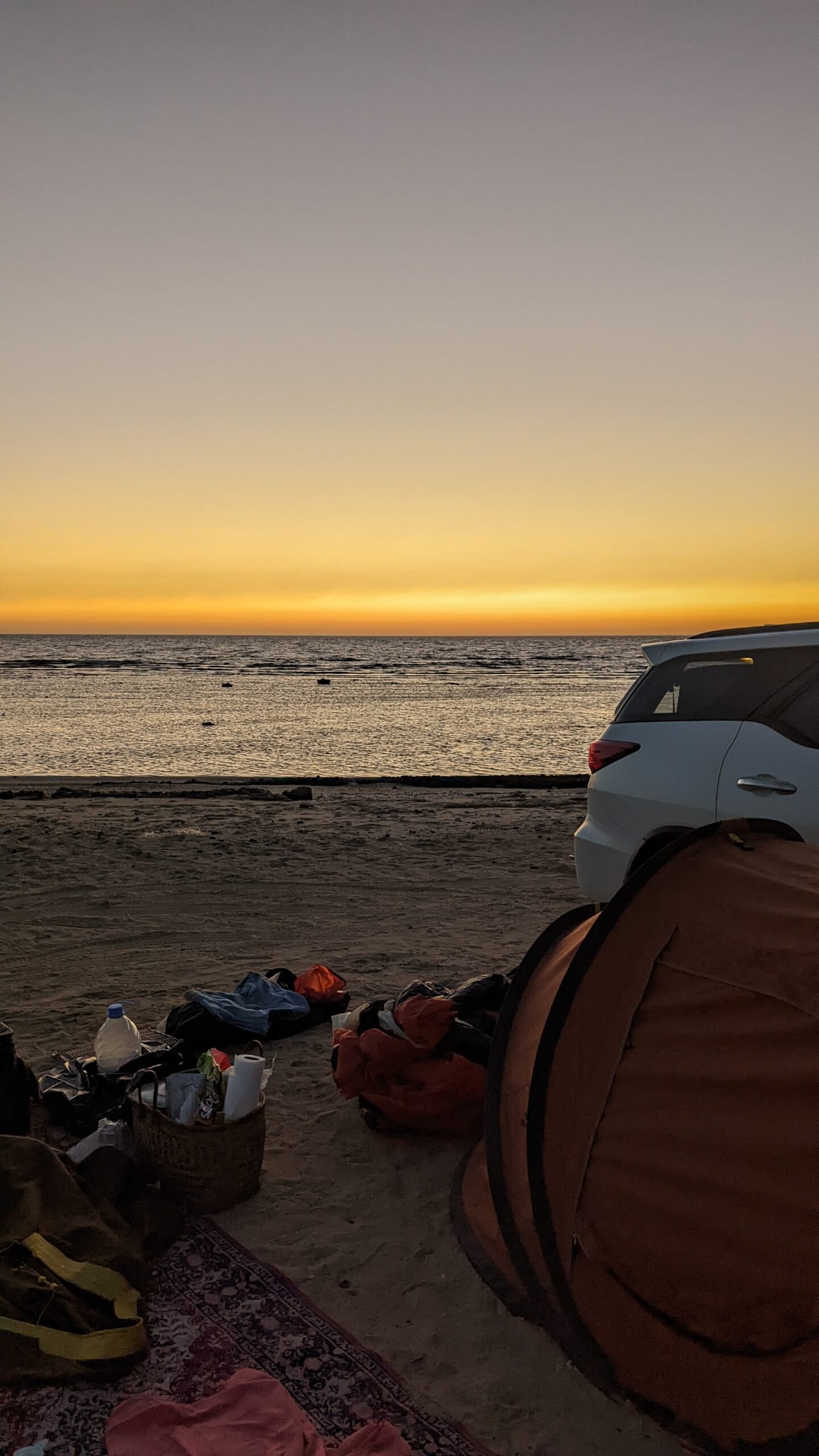 Day 1-2: Riyadh to Hail
Your road trip begins in Riyadh, where you can rent a car and start driving north towards Hail. The journey takes about 7-8 hours, so be sure to take plenty of breaks along the way. Don't miss the historic Al Qishlah Fortress, which dates back to the 17th century and is now a museum. We personally spent some time in Jabal Aja and kept driving because we made great timing that day (we left at 3 am) but this is where we would have camped had we not left so early.
On Day 2
Once you've woken up in Jabal Aja you can spend some time hiking in the region. This mountain is also home to the famous Al Nufud Desert, which is a popular spot for hiking and off-roading. You can spend the night in the desert.
Day 3-4: Al Ula
From Hail, drive west towards Al Ula, which is about a 5-hour drive. Al Ula is a unique destination, with its towering rock formations and ancient ruins. Be sure to visit the Al-"Ula Old Town, which dates back to the 12th century and is home to many traditional Saudi houses. Drive past Elephant Rock and find a place to camp at for the night. The surrounding area also has a restaurant, drinks, and fireplaces at your disposition.
On Day 4
take a tour of the Al Ula Archaeological Site, which is home to the ruins of several ancient civilizations, including the Nabataeans, who built Petra in Jordan. We booked this directly through the official Al'-Ula tourism board website and drove to the town center ourselves to be picked up. We paid around $35 USD per person for the whole day and got to visit 3 different sites with an experienced local guide. This is the most affordable way to visit Hegra. Tours and accommodation can be extremely pricey in the region.
You should be done with the tour by 4 pm. From Al-'Ula, make your way to Gharameel (that's the Google maps pin) for the night. This is a small village located in the midst of stunning rock formations. It is not marked in English on Google maps. This is one of those places that will be extremely touristy soon. Just drive to the pin and make your way inland. Gharameel is one of those rare places you will find on earth, and the night skies were the best I have ever seen.
Day 5: Gharameel
This area is perfect for hiking and exploring, and you'll feel like you've stepped into another world. In the outskirts of Gharameel you might find park rangers working there. The area is not completely run by the government yet so you will be allowed to go in. This is the kind of activity and prices that you will find once it really becomes touristy.
Next, head to Wadi Al Disah, a breathtaking canyon located about a 4-hour drive from Gharameel. Make sure to get there before it gets dark to secure a good camping spot. This, besides Al-'Ula, were the only two places where we found people camping just like we were. It is a perfect spot to spend the night under the stars surrounded by an oasis.
Day 6-7: Wadi Al Disah and Al Wajh
Once you've woken up and fought off the mosquitoes in Wadi Al Disah, be sure to check out the nearby rock formations and natural pools. The hiking trails here are not well-marked but as long as you have the right footwear with you it should be fine. Do not leave this area before exploring it first, it is definitely worth it.
In the late afternoon, make your way to From Wadi Al Disah, drive west towards the coastal town of Al Wajh, which is about a 3-hour drive. Al Wajh is a charming town with a beautiful old square and stunning beaches.
There is no rush when it comes to driving all the way here. Drive towards the outskirts of town and find any open space by the beach and set up your tent for the night.
In the early morning, make your way to town and ask local boats to a ride towards the islands. This is the Red Sea, with some of the best diving spots in the world. This is the same sea that is shared with Egypt, the difference here being that this is completely pristine and untouched by tourism.
Please keep in mind the time of the year that you visit. We tried two mornings in a row to visit the islands and everything had been cancelled because of the weather. The winds were incredibly strong and none of the boats could leave the shore. If locals avoid an activity because of the weather, so should you.
Day 8-9: Jeddah
On Day 8, continue your journey west to Jeddah, the largest city on the Red Sea coast. Jeddah is a cosmopolitan city with a rich history and a thriving arts scene. Don't miss the historic Al-Balad district, which is home to many traditional Saudi houses and is a UNESCO World Heritage Site.
Make sure to take a walking tour if the time allows. I'd also recommend  the Jeddah Corniche, a long seaside promenade with stunning views of the Red Sea. Take a stroll along the corniche and visit the Floating Mosque, which is surrounded by water and looks like it is floating.
We had two choices when we arrived in Jeddah. Pay for parking during the day and find camping spots outside of the city, or just stay in a hotel for two nights. We chose the latter option. Jeddah is regarded as the cultural capital of Saudi Arabia and in my opinion, it has more to see than Riyadh. Plan to stay here two days, if possible.
Day 10: Al Wa'bah Crater and Return to Riyadh
The last day involves a long drive back. Make the most of your day by leaving Jeddah early (also to avoid the morning rush) and make it to Al Wa'bah Crater sometime in the afternoon. It is a stunning natural wonder located about 4 hours east of Jeddah. This massive crater is over 2 kilometers in diameter and is surrounded by stunning rock formations. If you have the energy, allow an hour or two to explore the area. It would take a full day to hike down and back up from the crater, but you can still walk around the crater if you feel like it.
After visiting the crater, drive back to Riyadh, where you can return your rental car and reflect on your amazing journey. If you have some spare time, please check out The Scientist's Gift, a local initiative aimed at foreigners who are new to the city and want to learn more about Islam and Saudi Arabia. It is a FREE half-day activity where you will have a chance to visit different tourist sites around the city. This will be followed by a meal in one of the best restaurants in Riyadh. The meal is also complimentary!
My journey around Saudi Arabia was one of the best trips I have taken recently. I would make it a priority to visit the country before experiences like mine are no longer possible due to the government restricting the entry of individuals without permits or paying for entry fees. Please don't forget that you can do a similar itinerary like this one but you would have to book hotels in each region in advance, and it would take away from the beauty of sleeping under the stars. If you have any questions, let me know!