We're back with another group trip to Uganda!
If you're looking for new adventures, animal watching in a safari, trekking in the jungle looking for gorillas, immersing yourself in a new culture, getting to meet new people and going to East Africa? This is the best way to kick off the year 2024, and maybe even get away from the cold if you're in the Northern Hemisphere.
Come and join us this January 21st-27th, 2024, as we embark on a 7-day journey through the Pearl of Africa: Uganda. 
Trip highlights: Ziwa Rhino Sanctuary Park, Safari in Murchison Falls, gorilla trekking in Bwindi Impenetrable Forest & Lake Bunyonyi

*Game Drive (or safari): viewing wildlife in the comfort of an open 4×4 vehicle.
**Big game or game: large mammals – lions, leopards, black rhinoceros, elephants, etc.
If you have ANY questions, please feel free to reach out via email or Instagram DM!
Day 1: Pick-up and drive to Murchison Falls via Ziwa Rhino Sanctuary Park
Set off at 07:00am for Ziwa Rhino Sanctuary. Upon arrival, head to the offices for briefing. Thereafter your ranger/guide will lead you into the savannah grasslands in search for the rhinos. Spend an hour watching the rhinos as you listen to the great conservation efforts that have led to the reintroduction of white rhinos in Ugandan wilderness.
After a lunch break, proceed to Murchison Falls National Park via the top of the falls. Experience the scenic sights of the wild as the sun sets over Murchison Falls, the world's most powerful waterfall.
Thereafter head to the lodge for dinner and the night's stay.
Day 2: Morning game drive and afternoon boat cruise
After your breakfast, enjoy a morning game drive in the northern sector of
Murchison Falls. Look out for night dwellers including the leopards, lions and
hyenas, which, with a little luck, we will see before they retreat to the coolness
of the thickets in the afternoon hours.
After lunch, head out for a cruise to the bottom of Murchison Falls as you enjoy
the unique sights of aquatic wildlife such as hippos, crocodiles and aquatic birds and the breathtaking views of the water falls.
After this eventful Nile cruise, return to the lodge for dinner and the night.
Meals: Breakfast, lunch, and dinner.
Day 4: Gorilla trekking in Bwindi Impenetrable Forest
After an early breakfast, head to the park office at 08:00 am for briefing. Thereafter, the rangers will walk you down the narrow forest paths through thick undergrowth, with the bird sounds in the background as you search for the gorilla families.
Trekking can take between 2-6 hours. However, once found the experience of
watching these incredible primates in their natural habitat is well worth every ounce of energy expended on the tiring forest trails. It is most advisable for trekkers to be in
good physical condition before embarking on the trails.
We will be split up into smaller groups to have a more intimate experience with the gorillas. The gorilla family assigned to you will depend on your level of fitness and health, and there are 3 different levels of difficulty. You have the possibility to hire a porter (someone who will carry your bag and make sure you make it to the end) for $15 USD per person.

Get in close proximity with the gorillas as you quietly observe these pacific primates
in their natural habitat. Watch the Gorillas eat, groom and play. Packed lunched is
offered during the day.
Meals: breakfast, lunch and dinner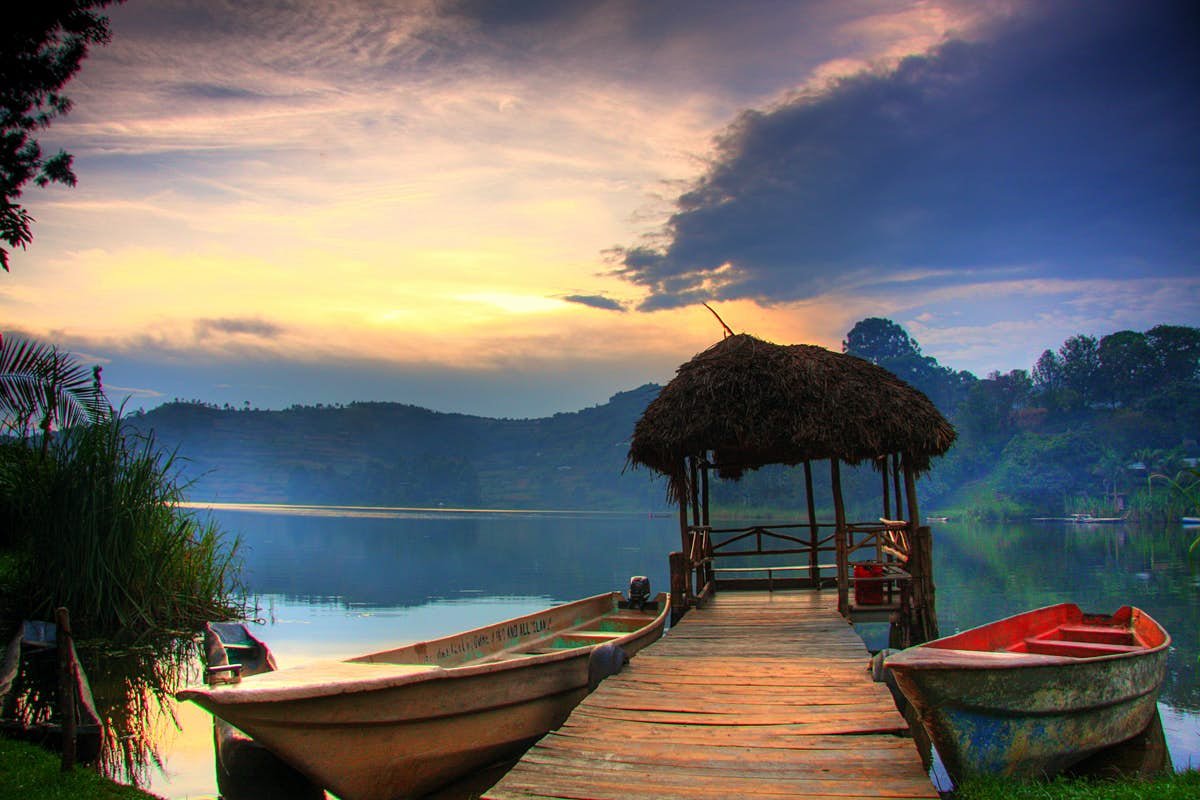 Day 6: Lake Bunyonyi
Spend the morning at your leisure. In the afternoon, we will start our excursion to Joshua's Island where we are in for a treat and a feel of the local life in Lake Bunyonyi. Learn to make a rolex and see how traditional millet beer is made as you hang out at local bar and in a homestead. Option of hiking, quad biking and swimming in the lake are also on offer.
Meals: breakfast, lunch and dinner
Day 7: Drive to Entebbe
After breakfast we'll embark on an 8 – 9 hour drive back to Entebbe where we will arrive in the evening hours.
Meals: Breakfast and Lunch.
Accommodation: No accommodation.
If you have ANY questions, please feel free to reach out via email or Instagram DM!
Rated 5* on trip advisor and 4.7* on google maps