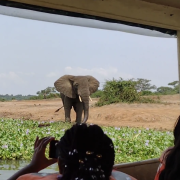 Trip to Uganda
$740.00 – $3,935.00
Visit one of the only 3 countries in the world where you can see gorillas in the wild. These creatures CANNOT be found in zoos, and only 1096 of them are left in the world. Your visits as a tourist funds their conservation and protection against hunters.
Watch the BIG FIVE (leopards, lions, buffaloes, rhinoceros, and elephants) as part of a safari. Uganda is safe, open for tourism, and has e-visas and visas on arrival for most nationalities.
By traveling with a Ugandan company, you are supporting the local economy by ensuring that revenues go directly towards community development. This is a true sign of sustainable tourism. Buutu Safaris has been operating since the 1990s and only uses local accommodation and employees to boost eco-tourism and help prevent illegal hunting (poaching).
I'm Sibu! I'm on a journey to break stereotypes and to push people to travel as much as possible. The world isn't as dangerous and scary as the media pegs it to be. Looking to get out of your comfort zone, visit lesser-known destinations and make new friends while traveling? This is the chance to do so!
For more details, Trip to Uganda.
NOTE: Please contact me directly if you would prefer to make a wire/bank transfer to an American or EU bank account instead of paying by credit card. PayPal and Venmo are also available if needed.